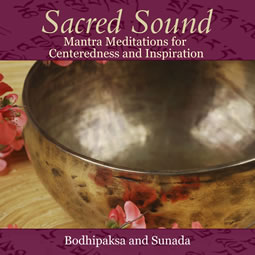 I'm very proud to announce this new audiobook on mantra chanting, which I co-created with Bodhipaksa of Wildmind.
In this comprehensive guide you'll find everything you need to get started with a mantra chanting practice, including:
The "magical" background and history of mantras
How mantras can help us develop centeredness and inspiration
Preparatory exercises to open the body and free the breath
Seven mantras chanted for listening and learning
The meaning and symbolism of each of the seven mantras
A print-friendly companion guide with images, pronunciation key, and musical notations
Sacred Sound is led by Bodhipaksa, who has been practicing mantra meditation since 1982, and who is the author of Wildmind: A Step-by-Step Guide to Meditation, and the forthcoming Living as a River: Finding Fearlessness in the Face of Change, and by Sunada, who is a life-long musician, workshop leader, and founder of Mindful Purpose Life Coaching. The running time of the audio program is over two hours. This audio course is free to all Wildmind Life Members. The Companion Guide to Sacred Sound is available as a free PDF download (2.3Mb).
Format: MP3
Quality: High (320kb/s)
Total download size: 351Mb
Running Time: 2:11
It's priced at $19.95 and is available for immediate download at Wildmind.org.